After a 40+ years jour­ney from movie addic­tion and sorcerer's fol­lies to an increas­ing­ly nat­ur­al life as a goatherd, bram­ble-strim­mer, and fledg­ling car­pen­ter, I can say that, while the jour­ney has been rich and ripe with arche­typ­al con­tent, a ver­i­ta­ble Greek odyssey, it is only, at the end of the day, the vis­i­ble evi­dence of an ongo­ing inner bat­tle with ancient anti-life forces and pow­ers and prin­ci­pal­i­ties of dark­ness. It's time to share some of this wis­dom and see who gets mobi­lized to act on it.
Online meet­ings are inter­ac­tive, on Sat­ur­days, for 15 euro. The time of day varies accord­ing to par­tic­i­pant needs.

72 hours sobri­ety (and absti­nence from pornog­ra­phy) is required for atten­dance. If it's your first time for such a meet­ing, email me (reply to this) and intro­duce yourself.
To sign up send pay­ment of 15 euro (after fees) to Pay­pal (Jasun at pro­ton­mail dot com) or Wise. To avoid PP fees, select "Fam­i­ly and Friends" option.
WHY GALICIA IS CLOSER TO HEAVEN THAN HELL



It's been two years + since my wife and I exit­ed Trudeau's Canuck Hell and set­tled in Gali­cia, Spain, as the first phase in our own pri­vate "great reset" (in reverse).
If you want to know why I have no prob­lem equat­ing mod­ern soci­ety with meta­phys­i­cal hell, here's a few bul­let points, cour­tesy of the Mrs.
Recent­ly, some­one asked me if I had any clear sense of where on the Earth it would be safe to relo­cate to, as the great AI com­bine har­vester pre­pares to grind every last soul stand­ing to sil­i­con and use it to build Big Mother's Elec­tron­ic Body. I wrote, "Actions speak loud­er than words" (this per­son knew I had moved to Spain).
I then asked my wife to make a com­ple­men­tary list to her "rea­sons to be fear­ful" list, by sum­ming up the sell­ing points of Gali­cia as a (more) sen­si­ble place to live out the End-Times. Here it is.
1. Lots of water and a tem­per­ate climate
2. It is a small-scale food-pro­duc­ing region
3. It's a high-trust, low-crime area
4. The human land­scape is still laid out accord­ing to pre-indus­tri­al age agrar­i­an requirements
5. It is under­pop­u­lat­ed ergo there are a lot of emp­ty build­ings and land is cheap.
6. Hydro­elec­tric­i­ty is dominant
7. There are no nuclear pow­er sta­tions nearby
8. The old stone build­ings here block Wi-Fi and satel­lite signals
9. Spain is known to be intol­er­ant of migrant incur­sions, meet­ing them with force and return­ing those they catch. Its for­mal posi­tion in 2022 was that "irreg­u­lar migra­tion" is a "secu­ri­ty threat to NATO's south­ern flank." In 2015 Spain reject­ed the EU's migrant quota.
10. As of 2023 the Social­ist par­ty got vot­ed out and a con­ser­v­a­tive par­ty got vot­ed in. The out-going PM Pedro Sanchez, was a fea­tured speak­er at Davos in 2023.
11. Spain's rela­tion­ship with Brus­sels is back to being cool after only 4 years of love & ass-kiss­ing from the Social­ist par­ty leader.
12. The autonomous com­mu­ni­ties (comu­nidad autóno­ma) have a lot of auton­o­my from the Span­ish cen­tral gov­ern­ment and that is backed by local iden­ti­fi­ca­tions and languages—which includes the Gali­cians, sim­i­lar to the more famous Basques.
13. Because Spain was ruled by the dic­ta­tor Fran­co for 35 years it is sim­i­lar to an East­ern Bloc nation in some respects — back­ward, not ful­ly mod­ern and with a liv­ing mem­o­ry of author­i­tar­i­an rule. Up to the 1970s enor­mous mule trains were still used to bring in the grape har­vest and our neigh­bors remem­ber the thresh­ing floor in our gar­den being in use in their youth.
14. North­ern Spain was a major refuge after the fall of the Roman Empire and defen­si­ble Pazos (large rur­al hous­es with a cen­tral court­yard), monas­ter­ies and towns still exist here— defen­si­ble from ban­dits, I mean.
15. There are oth­er local resources like ore, min­er­als, tim­ber, clay.
16. There are hot springs.
17. Spain is invis­i­ble in some ways — not a sig­nif­i­cant play­er in world affairs.
THE BRASS TACKS (& GOATS)
Recent­ly, I have been mak­ing the small stone casita next to the main house hab­it­able. I am cur­rent­ly work­ing on installing two show­ers and a sink out­side, to be fol­lowed by a com­post toi­let. What we will use the casita for depends. Obvi­ous­ly, we can rent it out, short and long-term, for some income. But hav­ing strangers liv­ing on our land isn't opti­mal, so it is more like­ly we will be seek­ing the right sort of per­son to stay there, by offer­ing it as a kind of "halfway house" for souls who are ready, will­ing, able, and des­per­ate enough to make the leap.
The leap I mean is one from urban depen­den­cy (social & cul­tur­al enslave­ment) towards rur­al self-suf­fi­cien­cy (rel­a­tive free­dom). Since it's a big leap, we want to offer the intre­pid among the decrepit a space they can set­tle for a time, while they decom­press and start to look for, or at least con­tem­plate, a place to live per­ma­nent­ly. At the very least I can pro­vide a brief refuge to get a taste of what such a life could be like if and when they are ready to leap.
Here's what the casita looks like so far.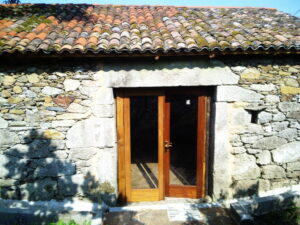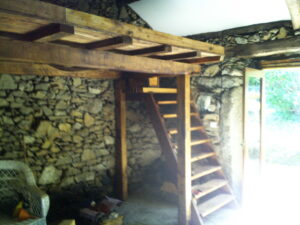 Here's a link to an exam­ple of the sort of prop­er­ty that is avail­able. The house in the link is about 10 kms from where we live, in a very small aldea (ham­let), sur­round­ed by rov­ing hills and fields and noth­ing much else. It has space for two small fam­i­lies and with a bit of renos, they could even live inde­pen­dent­ly of one anoth­er, so the own­er could live in one area and rent out the oth­er half to cov­er liv­ing costs. I just spoke to a local car­pen­ter and he told me that rent­ing coun­try hous­es is a cur­rent­ly boom­ing busi­ness in this much-cov­et­ed Rib­era Sacra area.
All of this is mate­r­i­al prac­ti­cal infor­ma­tion to make clear that tak­ing sig­nif­i­cant steps towards GETTING OUT OF A SATANIC SOCIAL SYSTEM ISN'T THAT DIFFICULT.
Yet all this is also a metaphor. The spir­i­tu­al jour­ney towards ensoul­ment and embod­i­ment is by def­i­n­i­tion invis­i­ble, beyond the realm of the sens­es. This means that the tan­gi­ble, observ­able aspect of the spir­i­tu­al process (let's call it that of extri­cat­ing the soul from hell/ejecting the satan­ic implants from the body, so soul and body can be unit­ed in eter­ni­ty) has to be expe­ri­enced in the realm of the sens­es and that of mat­ter.
It's what we do in the world, in time, that deter­mines our place in eternity.
All of Nature is a solution.
Con­tact me to attend.